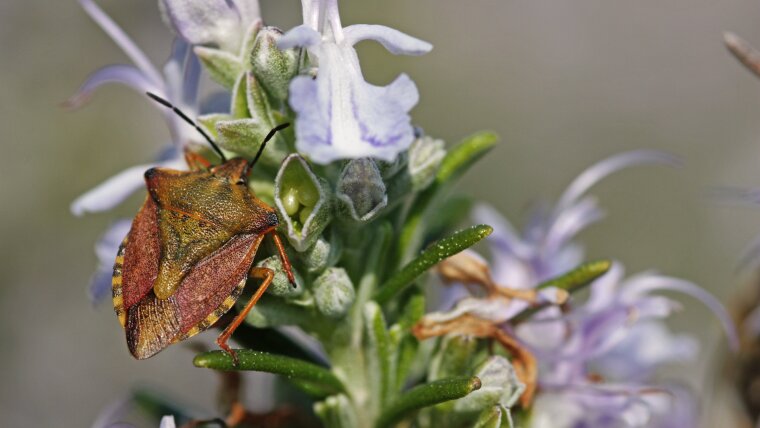 Dr. Anne Ebeling
Senior scientist in the Population Ecology Group and scientific coordinator of the Jena Experiment.
Sting Bug (Antheminia varicornis)
Anne Ebeling, Dr. habil.
Coordinator Jena Experiment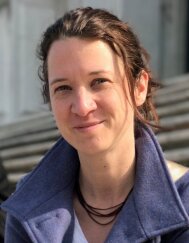 Room 409
Dornburger Straße 159
07743 Jena
Research Interests

Briefly, we study mechanisms linking primary producers, pollination, herbivory, predation and consumer community and food web dynamics, to get a broader understanding of the ecosystem. I mainly work in grassland ecosystems, as they offer a perfect model system for studying the interactions between plant- and consumer communities of different diversities or land-use regimes. As platform for parts of our research we use the large biodiversity experiment Jena Experiment and the Nutrient Network.
Jena Experiment Coordination
Recent publications

Maciá-Vicente, J.G., Francioli, D., Weigelt, A., Albracht, C., Barry, K.E., Buscot, F., Ebeling, A., Eisenhauer, N., Hennecke, J., Heintz-Buschart, A., van Ruijven, J. & Mommer, L. (2023). The structure of root-associated fungal communities is related to the long-term effects of plant diversity on productivity. Molecular Ecology doi: 10.1111/mec.16956External link

Bröcher, M., Ebeling, A., Hertzog, L., Roscher, C., Weisser, W. & Meyer, S.T. (2023). Effects of plant diversity on species-specific herbivory: patterns and mechanisms. Oecologia doi: 10.1007/s00442-023-05361-6External link 

Lange, M., Ebeling, A., Voigt, W. & Weisser, W. (2023). Restoration of insect communities after land use change is shaped by plant diversity: a case study on carabid beetles (Carabidae). Scientific Reports 13: 2140.  doi: 10.1038/s41598-023-28628-7External link

Ladouceur, E., Blowes, S.A., Chase, J.M., Clark, A.T., Garbowski, M., Alberti, J., Arnillas, C.A., Bakker, J.D., Barrio, I.C., Bharath, S., Borer, E.T., Brudvig, L.A., Cadotte, M.W., Chen, Q., Collins, S.L., Dickman, C.R., Donohue, I., Du, G., Ebeling, A., Eisenhauer, N., Fay, P.A., Hagenah, N., Hautier, Y., Jentsch, A., Jonsdottir, I.S., Komatsu, K., MacDougall, A., Martina, J.P., Moore, J.L., Morgan, J.W., Peri, P.L., Power, S.A., Ren, Z., Risch, A.C., Roscher, C., Schuchardt, M.A., Seabloom, E.W., Stevens, C.J., Veen, G.F.C., Virtanen, R., Wardle, G.M., Wilfahrt, P.A. & Harpole, W.S. (2022). Linking changes in species composition and biomass in a globally distributed grassland experiment. Ecology Letters doi: 10.1111/ele.14126 doi: 10.1111/ele.14126External link

Achury, R., Clement, L., Ebeling, A., Meyer, S., Voigt, W. & Weisser, W.W. (2022). Plant diversity and functional identity alter ant occurrence and activity in experimental grasslands. Ecosphere 13: e4252. doi: 10.1002/ecs2.4252External link 

Radujkovic, D., Verbruggen, E., Seabloom, E.W., Bahn, M., Biederman, L.A., Borer, E.T., Boughton, E.H., Catford, J.A., Campioli, M., Donohue, I., Ebeling, A., Eskelinen, A., Fay, P.A., Hansart, A., Knops, J.M.H., MacDougall, A.S., Ohlert, T., Venterink, H.O., Raynaud, X., Risch, A.C., Roscher, C., Schutz, M., Silveira, M.L., Stevens, C.J., Van Sundert, K., Virtanen, R., Wardle, G.M., Wragg, P.D. & Vicca, S. (2021). Soil properties as key predictors of global grassland production: Have we overlooked micronutrients? Ecology Letters doi: 10.1111/ele.13894External link

Grenzer, J., Kulmatiski, A., Forero, L., Ebeling, A., Eisenhauer, N. & Norton, J. (2021). Moderate plant-soil feedbacks have small effects on the biodiversity-productivity relationship: A field experiment. Ecology and Evolution 11: 11651-11663. doi: 10.1002/ece3.7819External link

Ebeling, A., Strauss, A., Adler, P.B., Arnillas, C., Barrio, I., Biederman, L., Borer, E., Bugalho, M., Caldeira, M., Cadotte, M., Daleo, P., Eisenhauer, N., Eskelinen, A., Fay, P., Firn, J., Graff, P., Hagenah, N., Haider, S., Komatsu, K., McCulley, R., Mitchell, C., Moore, J., Pascual, J., Peri, P., Power, S., Prober, S., Risch, A., Roscher, C., Sankaran, M., Seabloom, E., Schielzeth, H., Schutz, M., Speziale, K., Tedder, M., Virtanen, R. & Blumenthal, D. (2021). Nutrient enrichment increases invertebrate herbivory and pathogen damage in grasslands. Journal of Ecology doi: 10.1111/1365-2745.13801External link